Accommodations program offers relief for cancer patients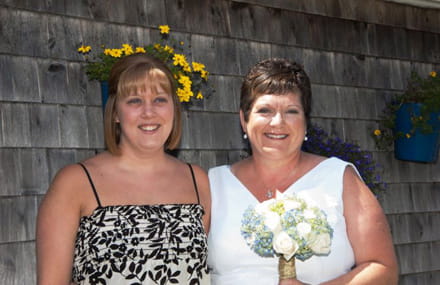 Without The Lodge, the financial strain would have been too much to bear while fighting cancer.
Karen Belliveau had a wonderful family and a great job and was engaged to be married. But Karen's life was turned upside down after she discovered a lump in her breast. At first, she brushed it off because breast cancer didn't run in her mother's family. But after undergoing tests and a biopsy, she learned that the breast cancer diagnosis was confirmed and that she would need a mastectomy.
Her fiancé, Clay, was a great support through the scary experience of surgery. But when Karen had to start chemotherapy and radiation, they weren't sure what to do. While chemotherapy was offered close to her home in Yarmouth, Karen would have to travel to Halifax for the radiation treatments.
We couldn't afford to stay at a hotel for 4 months while going through treatments.
Then a friend told her about The Lodge That Gives, a home away from home in Halifax for cancer patients and their families. The Lodge is funded by the Canadian Cancer Society and offers practical and emotional support. People with cancer will also find comfort in the company of others who are in similar situations.
What would I have done without The Lodge? The financial strain would have been too much to bear while fighting cancer.
I am thankful every day for the donors who support critical programs like The Lodge That Gives. It was truly a lifeline!
Three years after her diagnosis, Karen is grateful to be healthy and enjoying life with her husband, her daughters and her grandchildren.