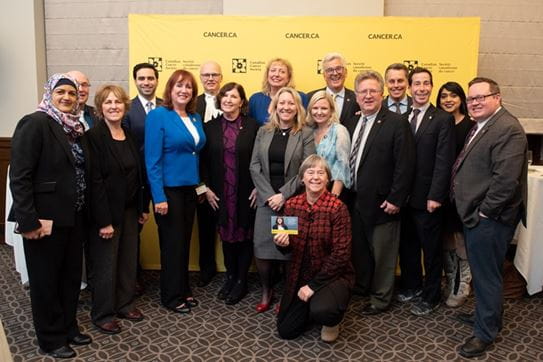 World Cancer Day was marked yesterday evening on Parliament Hill with a reception hosted by the Honourable Geoff Regan, Speaker of the House of Commons and Members of Parliament (MP) Don Davies, Marilyn Gladu and John Oliver.
Well-attended by MPs, Senators and Ministers, the event served as an opportunity to share the impact of the Canadian Cancer Society's (CCS) information and support services and specifically, CCS's helpline.
The helpline, Cancer Information Service (CIS), provides one-on-one support via telephone and email to people with cancer, survivors, caregivers and the general public in both official languages and in 150+ other languages through an interpreter. Through the helpline, our compassionate team of specialists provide information on more than 100 types of cancer for every stage of a cancer journey.
For more information on CCS's wide variety of services for people affected by cancer, visit cancer.ca.
About the Canadian Cancer Society
The Canadian Cancer Society is a national community-based organization whose mission is the eradication of cancer and the enhancement of the quality of life of people living with cancer. When you want to know more about cancer, visit our website www.cancer.ca or call our toll-free, bilingual Cancer Information Service at 1 888 939-3333.
For further information:
Nuala McKee
Manager, Public Engagement and Advocacy Communications
Canadian Cancer Society
Phone: 416-219-7281