TORONTO, ON
The Canadian Cancer Society (CCS) has been the voice for Canadians who care about cancer for more than 80 years. This April, Canada's only national charity that supports people with all cancers in communities across the country has put a new creative face forward, focusing on the idea that Life is Bigger than Cancer. The campaign was previewed on World Cancer Day in February and broadly launched this month to support CCS' annual Daffodil and Relay for Life campaigns.
As a champion for the 1 in 2 people who will be diagnosed with cancer in their lifetime, we know it's time for a fresh approach to the way cancer is talked about. With that in mind, we have decided to walk away from the over-used metaphors of fight" and battle." We know that people with cancer are more than their disease, and that even those who may die from it live on through all those who love and remember them," says Paula Roberts, Executive Vice-President of Marketing and Communications at the Canadian Cancer Society.
Last year, the charity began working with Grey Advertising Canada to develop the charity's Life is Bigger than Cancer language and a manifesto which highlights how the organization helps people live their lives to the fullest. The multi-platform integrated marketing campaign includes print, online, television and radio executions.
No other organization does everything that CCS does for Canadians affected by cancer. They literally serve people at every stage of a cancer journey – from prevention to diagnosis and treatment to life after cancer," says Ian Westworth, SVP, Head of Planning & Effectiveness
at Grey Canada. The campaign needed to convey that a huge collective of people – people with cancer, their families, friends and healthcare teams as well as donors, advocates, researchers and volunteers – are united by the same goals and together, they are a force-for-life in the face of cancer."
Adds Roberts: At CCS, we know that cancer changes people. But as we have heard directly from those we serve; it doesn't have to define a person. Our goal is to improve the cancer experience by ensuring people live longer, enhancing their quality of life, helping them live their lives more fully and see life beyond their diagnosis. That's what we mean when we say, 'life is bigger than cancer'.
Samples of the creative executions can be viewed below:
LIFE IS BIGGER THAN CANCER @(Model.HeadingTag)>
The Canadian Cancer Society is the only organization that helps Canadians touched by all cancers. Working coast to coast in more than 70 local communities, it's our research, volunteers, and support services that help people go from having cancer to living with it. Join us and together we can continue to prove that life is bigger than cancer.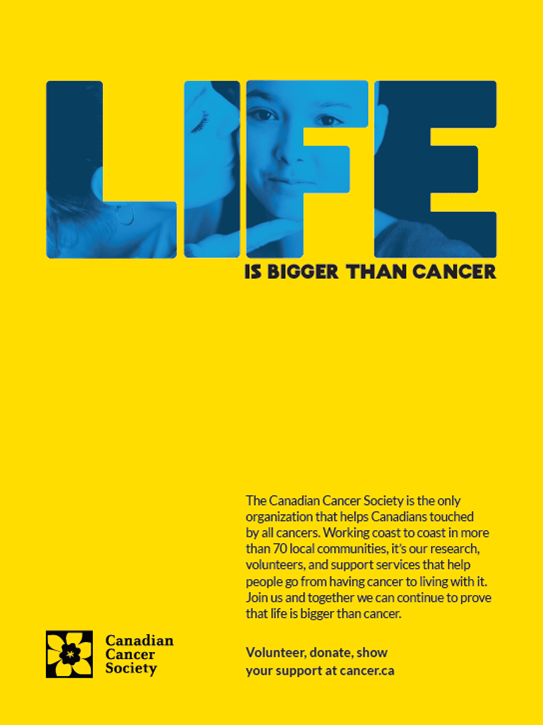 YOUR DONATION IS BIGGER THAN CANCER @(Model.HeadingTag)>
No other cancer charity does what we do. When you donate, you help us fund life-changing support programs, ground-breaking research and advocacy efforts that help all Canadians live healthier lives. So donate and join our annual Daffodil Campaign. Then wear your Daffodil pin or display your fresh flowers and help us declare that life is bigger than cancer.