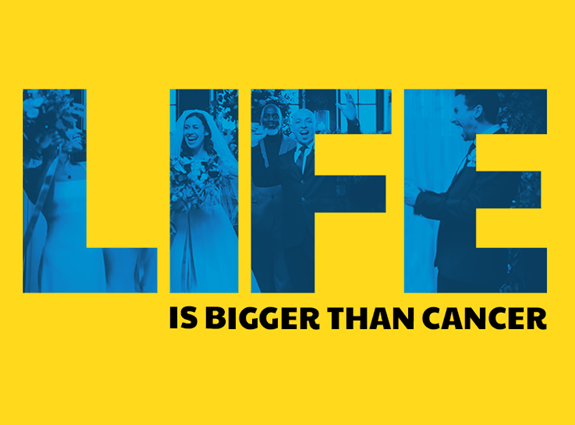 Life is bigger than cancer
Please support the Canadian Cancer Society, the largest national charitable funder of research into all cancers.

Right now, the Canadian Cancer Society is funding life-changing research and providing much needed support services so that people living with cancer have a life that is bigger than their diagnosis.
The simple fact is that nearly one in two Canadians is expected to hear the words "It's cancer" in their lifetime. That means that if it's not you, it may be the person beside you. A friend. A neighbour. Or a loved one even closer than that.
Accelerating Research
Researchers are racing to find better treatments and while progress has been made in how we prevent, diagnose, treat and live with and beyond cancer, we have more work to do.
Together, with your support, in 2020 the Canadian Cancer Society funded more than 800 researchers across all types of cancer and nearly 6,000 over the past three decades.
We now know that cancer isn't one, but more than 100 shape-shifting diseases. That's why we fund the geniuses and dreamers doing research across all types of cancer. Some of it is nothing short of miraculous.
But they can only find that miracle, if we can fund that miracle.
Please support the Canadian Cancer Society, the largest national charitable funder of research into all cancers.
A support system like no other @(Model.HeadingTag)>
Only the Canadian Cancer Society has a nationwide support system that makes a real difference for people living with cancer, and those devoted to their care. This support is needed more than ever as feelings of isolation and anxiety are heightened due to the COVID-19 pandemic.

Our toll-free helpline and online chat service offer much-needed emotional support and information on coping with cancer. Our community services locator provides details on how to connect with services in local communities.

CancerConnection.ca
is our online community giving those with cancer, and their caregivers, a place to share experiences, get non-medical advice and build supportive relationships.

CCS lodges
offer a safe and comfortable place to stay for those who must travel for their life-saving cancer treatments.

Our wig banks help people with cancer regain a sense of self. With a new online, nationwide distribution system, offering curbside pickup or delivery, our free wigs are available for people anywhere in Canada.
These are only some of the Canadian Cancer Society services that your donations help fund.
No other cancer charity does what we do. And with your help, together we can continue supporting the nearly half of Canadians expected to be diagnosed with cancer in their lifetime, and those devoted to their care.
Donate today because empathy is bigger than apathy. Science is bigger than any tumor. And life is bigger than cancer.