Pedal for Hope: When Maci met Sgt. John Townsend
Pedal For Hope is a cycling tour travelling across central Ontario in support of childhood cancer research and cancer survivors like 9-year-old Maci.
3 min. de lecture
In April 2005, 12 police officers set out on a journey around central Ontario, cycling thousands of kilometres for 3 weeks to raise awareness and funds in support of young Canadians faced with childhood cancer. The tour is now known as the Canadian Cancer Society Pedal For Hope, and for 10 years straight, Police Sergeant John Townsend of the Peterborough Police Services pedalled every kilometre.
In its first year, John set a fundraising goal of $50,000. On day 5, the officers surpassed their goal, ultimately raising over $100,000. Last year alone, the Pedal For Hope team raised $350,000, bringing the team's total to just under $5 million in the last 14 years.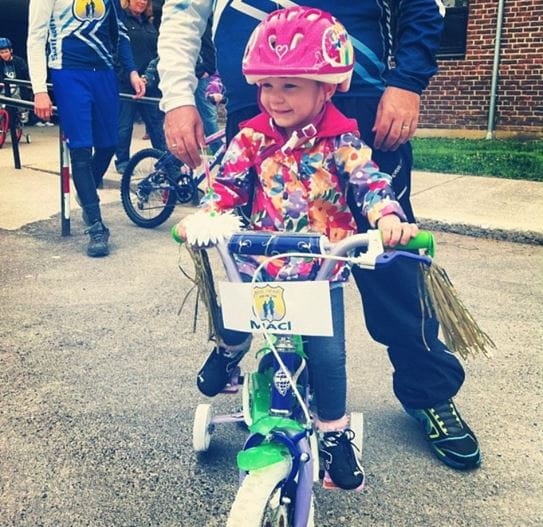 The driving force behind the Tour @(Model.HeadingTag)>
What makes Pedal For Hope so successful are the children involved. Each year, riders are paired up with a child living with cancer. Officers spend time with the child and their family, building the foundation of a unique friendship. From day one of the tour, until the very last kilometre, each officer rides in honour of their new friend.
"Every kid we ride for motivates us to keep riding," says John. "They're our heroes and a true inspiration for the Pedal For Hope team to continue each year."
When Sergeant Townsend met Maci @(Model.HeadingTag)>
Back in 2012, a new Pedal For Hope tour was set to begin. John arranged for Maci and her mom Kati to come down to the police station. From the moment they met, John knew Maci was special.
"I still remember this 4-year-old walking into the police station wearing the greatest pair of cowgirl boots you could imagine," John describes. Maci made an impact immediately.
"Getting involved with Pedal For Hope has been one of the best parts of Maci's journey," explains Maci's mom, Kati. "It gave her a sense of purpose and the Pedal For Hope community made her feel welcomed."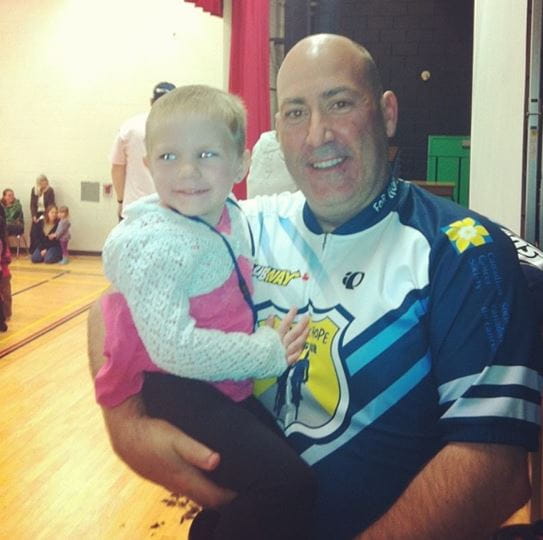 A big diagnosis for a little girl @(Model.HeadingTag)>
Maci was diagnosed with acute lymphoblastic leukaemia (ALL) and began chemotherapy before she was 3. The treatment and daily steroids began taking a toll on young Maci. She lost her hair and her energy faded.
"It was hands down the hardest experience to watch your child fight for their life and be 100% helpless," recalls Kati.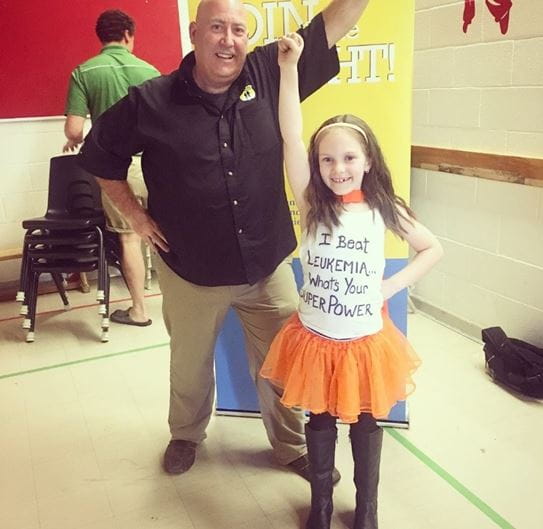 A different kind of therapy @(Model.HeadingTag)>
But two years into treatment, Maci's friendship with John began. She rode in her first Pedal For Hope tour at the age of 4, riding the tour's final kilometre with training wheels and Kati pushing her the entire way.
For 6 years, Maci's been part of the tour, and for 6 years, she's been riding alongside John and the Pedal For Hope team. Their friendship will last forever and her time on tour has helped Maci cope with her diagnosis.
"It makes me happy and excited knowing I have someone really special like John as a friend," says Maci. "I feel proud having him ride for me."
As for mom, she's just as touched to be involved with Pedal For Hope.
"I've always said throughout our journey we have met some pretty remarkable people," she said. "But John is more than a remarkable person, he was welcomed into our family instantly."
A new tour begins @(Model.HeadingTag)>
This year marks Pedal For Hope's 15th anniversary. Although John's no longer riding on the tour, he's taken an active role organizing the event. Each year brings exciting challenges and new friendships. But best of all, Maci will always be in his life.
"No matter where our relationship goes as Maci grows up and becomes more independent, I know there will always be that connection we formed through Pedal For Hope."