Current funding statistics
Recommendation @(Model.HeadingTag)>
Option 1: Media Block Component
Pros : Less work, but your team have to get a better resolution for all of the pictures. The users will be able to see the stats.
Cons : Not very mobile friendly, not really accessible either, but you can place a description in the ALT image and a warning in the page.
Option 2: Statistic Block
Pros : Accessible and easy to read
Cons : More work as each statistics chart is divided in many tables (one table per column in the chart). One chart should become a single page, and we could use a Hub to regroup all ''charts'' pages.
Option 3: Popup Component (image enlarger)
Choose one of the two first options for the launch and wait for the Popup component (image enlarger) to be available in phase 02 as it has been requested for other sections.
The popup is not solving all problems, because the accessibility and the mobile version has to be a priority. We could work on the guidelines for chart on mobile.
Option 4: Chart Component
In the discovery phase, we discussed using an accessible JS Library. The new component will look like: Section title, Chart title, chart (multiple variants), each chart has statistics with label and value. This component will be better for this type of charts. It will also have a good response on mobile devices. If theses pages receive an important amount of views, we should considered it in the backlog prioritization (approx. 5 pts in dev). References: desktop mockups and mobile mockups.
Innovation grants (Option 1) @(Model.HeadingTag)>
October 2016 Competition by Panel (Funding February 1st, 2017)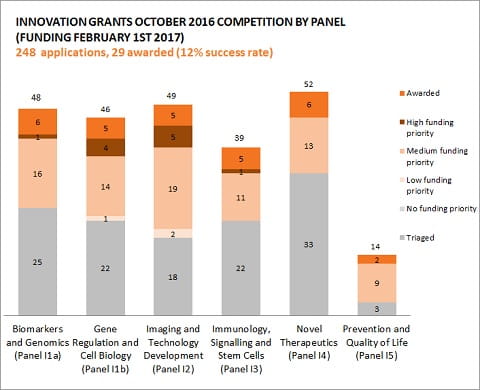 Innovation Grants (Option 2)
October 2016 Competition by Panel (Funding February 1st, 2017)
Biomarkers and Genomics (Panel I.A)
Medium funding priority
16
248 applications, 29 awarded (12% success rate)
Gene Regulation and Cell Biology (Panel I.B)
Medium funding priority
14
248 applications, 29 awarded (12% success rate)
Imaging and Technology Development (Panel I.2)
Medium funding priority
19
248 applications, 29 awarded (12% success rate)
Immunology, Signalling and Stem Cells (Panel I.3)
Medium funding priority
11
248 applications, 29 awarded (12% success rate)
Novel Therapeutics (Panel I.4)
Medium funding priority
0
248 applications, 29 awarded (12% success rate)
Prevention and Quality of Life (Panel I.5)
Medium funding priority
0
248 applications, 29 awarded (12% success rate)