Dr Timothy Whelan is a radiation oncologist and researcher who is described by his peers as a world leader in the field of radiation therapy for breast cancer. Throughout his career, he has focused on conducting rigorous clinical trials to test new treatment strategies and technologies to guide clinical practice.
2 min. read
O. Harold Warwick Prize, 2019 recipient @(Model.HeadingTag)>
The O. Harold Warwick Prize is given for outstanding achievements in cancer control research. It honours Dr Warwick, a pioneering researcher in cancer control and treatment, and the first executive director of the former National Cancer Institute of Canada and the Canadian Cancer Society.
The award comes with a $20,000 contribution to the recipient's research program.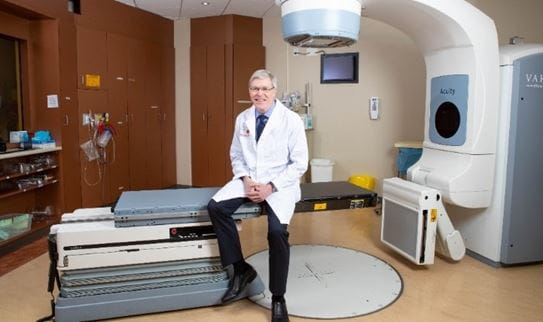 Chief among his contributions is a Canadian clinical trial that Dr Whelan led in the 1990s that showed that giving a larger dose of radiation per day over a shorter period of time was as effective and safe as the previous standard of a lower dose of radiation over a longer timeframe. A shorter course of radiation requires fewer visits to the hospital, making it more convenient for people with breast cancer and less costly for the healthcare system. Thanks to Dr Whelan's ground-breaking work, the shorter radiation schedule is now the standard of care in Canada and around the world.
In another influential study, Dr Whelan led an international clinical trial that found that the addition of regional node radiation after breast conserving surgery and standard whole breast radiation reduced the risk of breast cancer coming back and spreading, leading to the strategy being adopted into clinical practice in Canada and abroad.
Dr Whelan has also led the development of a visual aid called a decision board to improve communications between clinicians and people with breast cancer. By providing information about treatment choices, outcomes and likelihood of outcomes, the tool allows people to be actively involved in the decision-making process and make informed choices about their treatment.
Dr Whelan's body of work has fundamentally improved care for people with breast cancer by changing how radiation therapy is delivered and how people are consulted during the process. As a result of his efforts, more people with the disease are living longer and fuller lives.