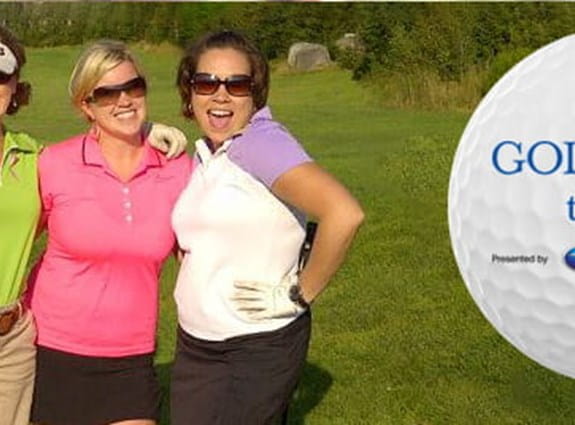 Golf Fore the Cure
Pink hair, pink gear, pink everywhere. Each year, hundreds of women transform the lush green lawns of golf courses across Canada into a sea of pink to have fun and raise funds to conquer breast cancer. This is the spirit of Golf Fore the Cure – a program created by Golf Canada to drive women's participation in the game of golf and raise money to support the fight against breast cancer.
Golf Canada's partnership with the Canadian Cancer Society - through Golf Fore the Cure - has raised more than $4 million to support the Society's breast cancer research and support programs. From east to west and as far north as the Northwest Territories, thousands of women have been making a huge difference in the lives of Canadians affected by breast cancer, one round at a time.
Jeff Thompson, Golf Canada's Chief Sport Officer, recalls the origins of the program. "Initially, we simply wanted to get more women involved in golf. We knew that there was about a 3:1 participation difference in men and women playing the game, and we felt the need to create a platform specifically for women that would be appealing and motivate more of them to play. So out of that, Golf Fore the Cure was born."
This signature fundraising program has grown from just over 50 events in 2006 to nearly 180 in 2014. Each year, site coordinators invest many hours in planning, coordinating and hosting local golf events. While the women who participate get involved for various reasons, they share a common goal of defeating breast cancer.
Golf Canada expects to see even more women participating in the program this year. "While the philanthropic focus of the program underpins its success, we haven't lost sight of the goal of getting more women to play golf. In fact, more women playing translates into even more funds generated for breast cancer research, awareness and support," says Jeff Thompson.
Golf Canada – and all the women who have made Golf Fore the Cure the success it is each year – can be proud of their invaluable contribution to the advancements made in breast cancer research. They are providing women with physical, psychological and emotional support throughout their cancer journey. The hard work and dedication of all our Golf Fore the Cure volunteers and donors have had a tremendous impact on the scientific world and the lives of thousands of Canadian women, their families, friends and caregivers in communities across Canada.
The 5-year survival rate for breast cancer, which today stands at 88%, underscores the impact of their support on breast cancer research. And many women have benefited from the Society's support programs like the Peer Support Service, Community Services Locator, Cancer Information Helpline and transportation and wig programs.

"I'm extremely grateful to the Canadian Cancer Society for funding my research with an Innovation Grant."

"We realize that our efforts cannot even be compared to what women face when they hear the words ... 'you have cancer'."
We recognize the following clubs for their outstanding fundraising efforts and have named a breast cancer impact fund in their honour.
Alberta Springs Golf Course (Elga's Ladies)

Blue Heron Golf Club (Blue Heron Cares for the Girls)

Club de golf Le Fontainebleau

Elk Ridge Resort

Fernie Golf & Country Club

Fredericton Golf Club

Golf New Brunswick

Green Hills Golf Resort

Hollinger Golf Club

Petitcodiac Valley Golf & Country Club

RedTail Landing Golf Club

Rideau Lakes Golf & Country Club

Sandy Hook Golf Club

Southside Golf Course

Sunningdale Golf & Country Club

Sussex Golf & Curling Club

Willow Park Golf & Country Club