What is chronic myelogenous leukemia?
Chronic myelogenous leukemia (CML) is a cancer that starts in blood stem cells. Stem cells are basic cells that develop into different types of cells that have different jobs. As the stem cells of the blood develop, they become blast cells (blasts), which are immature blood cells. In leukemia, there is an overproduction of blast cells. These blast cells develop abnormally and don't develop into mature blood cells. Over time, the blast cells crowd out normal blood cells so that they can't do their jobs. When leukemia is diagnosed, these blast cells may be called leukemia cells.
There are many different types of leukemia. They are grouped based on the type of blood stem cell they developed from. Blood stem cells develop into either myeloid stem cells or lymphoid stem cells.
Myelogenous leukemias develop from abnormal myeloid stem cells. Myeloid stem cells normally develop into red blood cells, granulocytes, monocytes or platelets. Red blood cells carry oxygen to all tissues of the body. Granulocytes and monocytes are types of white blood cells that destroy bacteria and help fight infection. Platelets form clots in blood to stop bleeding.
The types of leukemia are further grouped based on how quickly the leukemia develops and grows. Acute leukemias start suddenly, developing within days or weeks. Chronic leukemias develop slowly over months or years.
CML starts in abnormal myeloid stem cells and develops slowly. The abnormal myeloid stem cells develop into cancerous, or malignant, granulocytes. CML rarely develops in children and is one of the less common types of leukemia in adults. About 95% of adults with CML have the Philadelphia (Ph) chromosome in their leukemia cells. This is an acquired chromosomal abnormality, which means that it occurs at some time after birth.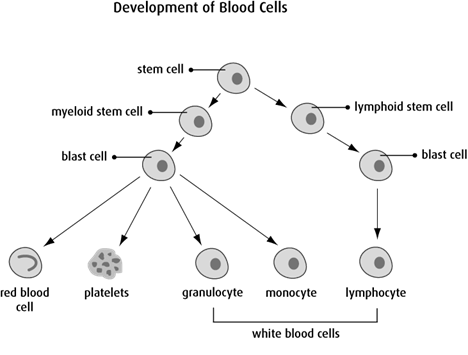 Expert review and references
Kurtin SE . Leukemia and myelodysplastic syndromes. Yarbro, CH, Wujcki D, & Holmes Gobel B. (eds.). Cancer Nursing: Principles and Practice. 7th ed. Sudbury, MA: Jones and Bartlett; 2011: 57: pp. 1369-1398.
The blood and bone marrow
Bone marrow is the spongy, liquid substance in the centre of some bones. Its main function is to produce blood cells. It constantly produces blood cells to meet the body's needs.