Why Canadians affected by cancer are ditching alcohol
Four Canadians who have been impacted by cancer now choose to promote healthy lifestyle changes and raise funds to benefit others facing the same challenges.
6 min. read
For some Canadians, drinking alcohol is part of their social life and can be a way to relax after a long day. In fact, 2 out of 10 Canadian adults drink alcohol daily. But did you know that drinking any type of alcohol raises your risk of developing cancer?
The good news is the less you drink, the more you reduce your risk. Limiting or giving up alcohol may seem challenging, but it's possible. Thousands of Canadians do it every year for Dry Feb.
Through the Dry Feb challenge, people across the country go alcohol-free during the month of February while raising funds in support of the Canadian Cancer Society. Year after year, participants help us make a difference for people affected by cancer and experience the many health benefits of going dry, like increased energy levels, sleeping better and even weight loss. Steve, Luke, David and Stephanie share their experiences!
Meet Steve: honouring his mom and giving back in a meaningful way @(Model.HeadingTag)>
In November 2018, 47-year-old Steve was diagnosed with stage 3 colon cancer. After an initial surgery, he underwent chemotherapy treatment a few months later. During this time, he was given more difficult news when his mother called to tell him that she had been diagnosed with stage 4 stomach cancer.
Determined to be there for each other on their cancer journeys, Steve and his mother faced treatment together. Each week, they sat together in the same chemo unit at the hospital, supporting each other through their shared experience. Unfortunately, Steve's mother passed away in May of 2019. To honour his mom and the memories they shared together, Steve wanted to give back and support others affected by cancer. The Dry Feb fundraiser in support of the Canadian Cancer Society was the perfect fit.
"I decided that going dry in February for a very important cause was the least I could do for others who are faced with the mental and physical pain that often comes along with cancer," shares Steve.
During his treatment, Steve had participated in a study examining the relationship between exercise and cancer reoccurrence. He was curious to see how going dry could also benefit his health and was pleasantly surprised at how good he felt after taking a break from alcohol.
"The benefits of going dry in February are endless," shares Steve. I wake up every day feeling stronger both mentally and emotionally."
Although this is his first year taking the Dry Feb challenge, Steve's experience so far has been a memorable one.
"The outpouring of support from family and friends has been so amazing," shares Steve. "My favourite part of Dry Feb is knowing that I'm doing my part to give back to the thousands of families across the country who are affected by cancer."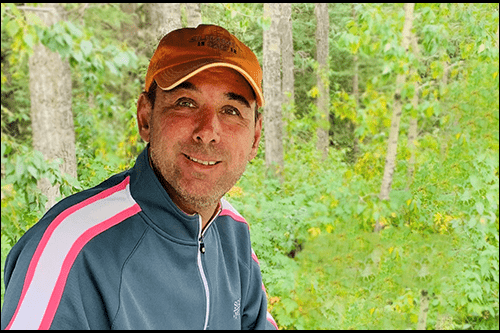 Meet Luke: showing support and solidarity for a friend @(Model.HeadingTag)>
Luke has seen first-hand the impact of cancer on loved ones throughout his life – when he was young, his mom passed away from cancer, and he recently lost a friend and mentor to the disease. So, when his friend Megann was diagnosed with lymphoblastic leukemia at the end of January 2021, he wanted to find a meaningful way to show his support for her while she faced treatment. Luke decided to create a team for Dry Feb – becoming team captain and rallying friends and family together to join Team "Dry For Megann".
"When I learned about Dry Feb, I thought it was a terrific way for us to sacrifice something for a month to show support and solidarity for our friend," he shares. "None of us are going through what Megann is experiencing, but we're hoping that going dry, banding together as a team and raising funds for cancer research will help generate positivity and show Megann how much we care."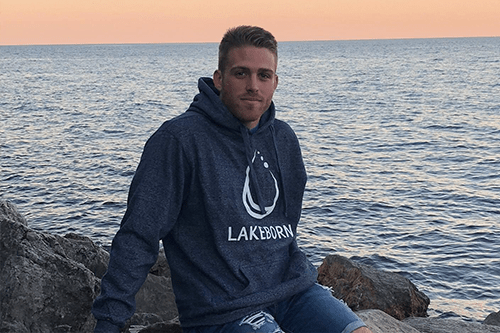 Although Megann has been unable to see loved ones in person while undergoing treatment due to COVID-19 restrictions, the support she's received because of the Dry Feb team that Luke organized has allowed her to connect with them in a new way.
"I've received a massive display of support through donations and comments from family and friends across Canada and overseas," shares Megann. "Not only is Dry Feb raising funds for a good cause, but it has been an incredible source of strength to be able to see all the people rallying behind me."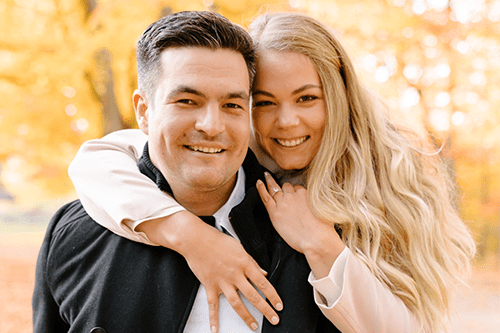 Meet David: jumping in to Dry Feb for the first time @(Model.HeadingTag)>
David first learned about Dry Feb after seeing a television ad while watching football. In early 2020, the 30-year-old engineer from Calgary, Alberta had experienced his own journey with cancer when he was diagnosed with plasma cell leukemia. Now with his cancer in full remission, David decided to join Dry Feb to support other Canadians who are going through similar experiences.
For David, seeing the passionate community of people that Dry Feb brings together has been inspiring – from participants who've survived cancer, like him, to others currently going through treatment to thousands of other people who simply care about the cancer cause.
"When I looked at some of the fundraisers' profiles, I saw similar situations to mine – people who were going through a tough time in their life deciding to fundraise for an amazing cause and getting a ton of support through positive messages and donations," shares David. "It's heartwarming to see Canadians coming together to support those with cancer."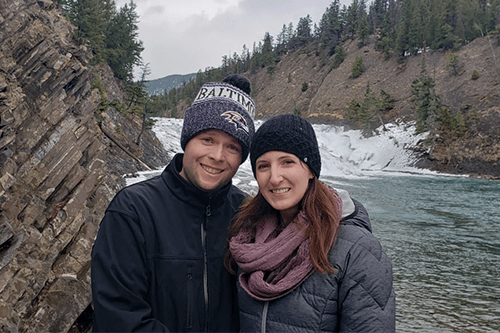 Meet Stephanie: finding support from her family and friends @(Model.HeadingTag)>
In December of 2020, 63-year-old Stephanie was diagnosed with breast cancer. While undergoing treatment, she learned about Dry Feb through social media and wanted to participate, but she was unsure about whether she should join since she didn't feel it would be a true challenge for her.
"At first, I felt like it was cheating to participate and fundraise because I'm not drinking anyway while I look after myself during this journey," shares Stephanie.
But after encouragement from her husband, daughter and son-in-law, Stephanie decided to sign up and sent out an Instagram post and email to let her friends and family know that she was participating – and the response was overwhelming. As donations began coming in from loved ones wanting to show their support, Stephanie surpassed her initial fundraising goal by over $10,000!
While making healthy lifestyle changes can be difficult, Stephanie believes Canadians can all take action to live better. Drawing from her own experiences of adapting to change on her cancer journey, she knows the key to success is to be kind to yourself! "As with my own journey, my advice for any commitment is to always take it one day, one hour, one minute at a time – and if we falter, accept ourselves, return to the present and begin again," she shares.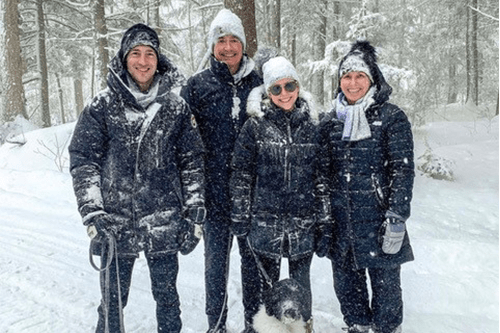 Inspired by Steve, Luke, David and Stephanie? Like them, you can show your support for Canadians affected by cancer. And while Dry Feb takes place during February, making healthy changes to drink less is a good habit to practice all year round. After all, it's sobering news but drinking alcohol increases your risk of head and neck, breast, stomach, pancreatic, colorectal and liver cancers. About 3,300 new cancer cases each year are due to drinking alcohol. If the trend continues, the number of new cancer cases due to drinking alcohol will triple, increasing from 3,300 to 10,100 in 2042.
Together, we could prevent about 44,300 cancer cases by 2042 if more Canadians limited their alcohol intake to less than 1 drink a day for women and less than 2 drinks a day for men.