How a mother found community and hope during her child's experience with cancer
When Mena's son was diagnosed with cancer, she was determined to stay hopeful. Thanks to our Cops for Cancer initiative, she found a community to support her.
3 min. read
It's a day she'll never forget. Mena sat in complete shock as the nurse said to her, "We found leukemia cells in Jack's blood."
"I didn't even know what it meant, so I had to ask, "Jack has cancer?" Mena's world came to a complete halt.
Jack was 3 weeks shy of his sixth birthday when he was diagnosed with acute lymphocytic leukemia (ALL). As a mother of four boys, Mena was determined to stay hopeful for her family throughout Jack's cancer journey.
"With each hospital visit, we tried to find something positive," says Mena. "We weren't going to let cancer define our lives."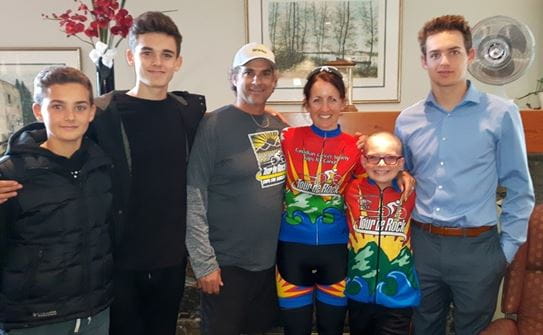 Healing within the community @(Model.HeadingTag)>
Jack underwent 3 and a half years of intense treatment at BC Children's Hospital. During this time, Jack began his journey with the Canadian Cancer Society Cops for Cancer Tour de Rock. This annual 2-week cycling tour is organized by a team of police officers to raise funds in support of children affected by cancer and their families. Jack joined as a junior rider, riding alongside police officers through his hometown of Victoria, British Columbia. And as Mena describes it, Jack embraced the tour and it became part of his journey to recovery.
"Jack could have been having a physically hard day with the treatment he was enduring," she explains. "And an officer with Tour de Rock would show up and it was like Santa Claus walked through the door."
For 7 years, Jack participated in Tour de Rock and felt proud to be involved with something so special. The Tour was a significant part of his recovery – and it became a large part of Mena's life too.
Fueled by a passion to make a difference @(Model.HeadingTag)>
Seeing Jack light up when Tour de Rock pedalled through town left Mena feeling full of hope. These riders were changing the lives of kids like Jack, offering them a chance to be part of something bigger than their diagnosis. Mena wanted to spread their message.
As fate would have it, an old friend of Mena's and a former Tour de Rock rider himself, asked Mena if she'd ever consider riding on tour. Mena didn't hesitate to get involved.
"I was given an opportunity at a much greater scale to make a much bigger impact," she explains. "I kept thinking about how many people would have donated anything to help my family and here I'm given the chance to give back tenfold."
Riding together towards the same goal @(Model.HeadingTag)>
The choice was made. Mena joined Tour de Rock in 2016. She trained for a year to prepare for the physically demanding journey. In that year, Mena set her fundraising goal high. She wanted to send 50 kids to Camp Goodtimes, a Canadian Cancer Society-operated camp for children and youth with cancer and their families. It is one of the largest beneficiaries of the Tour de Rock.
"Camp Goodtimes is a magical place that gives children affected by cancer the opportunity to be a child," says Mena. "We know firsthand because Camp Goodtimes was a vital part of Jack's experience."
Through her perseverance and with support from the community, Mena surpassed her goal, raising $80,000!
"Give yourself the chance to step out of your comfort zone and do good," says Mena. "You'll never look back and regret helping others."
Today, Jack's 16 years old and cancer-free. Although cancer doesn't define him, it's part of his history and so is Tour de Rock. As for Mena, she's on the Tour's steering committee and remains an active volunteer every year.
"Tour de Rock brought us together in a community and it's in the community where you heal," explains Mena.
Join Mena and other passionate Canadians dedicated to changing the future of childhood cancer. Show your support and be a part of the Cops for Cancer community. Sign up to get involved in an event near you or donate to help fund childhood cancer research and support programs, like Camp Goodtimes.