CIBC employee honours friend at the Canadian Cancer Society CIBC Run for the Cure
Tammy joined CIBC Run for the Cure 13 years ago to support her team. This year, she's running in honour of her dear friend to help make breast cancer beatable.
2 min. read
Thirteen years ago, Tammy joined the Canadian Cancer Society CIBC Run for the Cure, Canada's largest single-day, volunteer-led event in support of the breast cancer cause. In the beginning she was motivated to get involved because the cause was important to her CIBC co-workers and team. Today, the event has taken on an even greater personal meaning for Tammy – all thanks to Niki.
A blossoming friendship @(Model.HeadingTag)>
Tammy and Niki met while working at CIBC and in the short time they knew each other, Niki made a lasting impact on Tammy's life.
"She redefined who I am as a friend – she made me a better one," says Tammy. "I learned how to invest my time in people and things that matter."
Niki's infectious larger-than-life personality drew them together and they quickly became friends. It was not long after that Niki revealed to Tammy that she had metastatic breast cancer.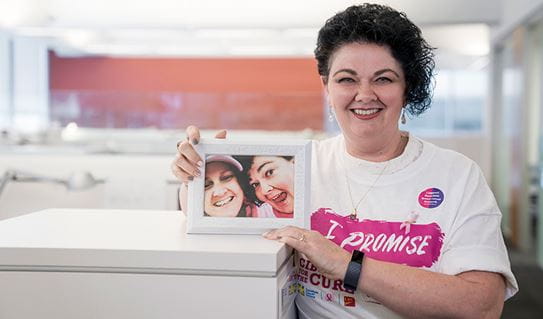 Strength and determination @(Model.HeadingTag)>
Niki didn't let her cancer diagnosis stop her from living her life to the fullest.
"Cancer was never something she led her life with," says Tammy. "She had the best sense of humour and didn't have time to sweat the small stuff."
Throughout Niki's cancer journey, she was brave, resilient and remained enthusiastic about life. Even when her health began to decline, she didn't let it slow her down and continued to be involved in the Run. One month before Niki died, she gave a moving speech to Run participants and then set out on the 1-kilometre walk using her walker. Niki never gave up and proudly finished the walk in an hour and a half.

Changing the future of breast cancer @(Model.HeadingTag)>
After Niki passed away, Tammy was more determined than ever to help make breast cancer beatable.
"Niki's cancer diagnosis made me realize there's a massive community of people out there living with cancer that needed support."
This October, Tammy will be joining 15,000 Team CIBC members at the Run – but this year, she will be running in honour of Niki. Her goal? To raise money for metastatic cancer research so no one will have to face breast cancer in the future.
"Niki lived with intention and now it is my intent to continue the conversation about cancer," says Tammy. "I am now Niki's feet on the ground and voice to raise awareness."
---
On average, more than 70 Canadians will be diagnosed with breast cancer every day. But with the collective of Canadians that the CIBC Run for the Cure brings together, there is hope. Thanks to funds raised through events, like the Run, we know more than ever before about how to prevent, diagnose, treat and live with and beyond breast cancer. With support from people like Tammy and Team CIBC, we can make breast cancer beatable.