A mother discusses life before and after childhood cancer
A mother discusses life before and after childhood cancer
3 min. read
When Beckett was 3-years-old, he was mountain biking without training wheels and dashing down ski hills with no care in the world. In the same year, Beckett was diagnosed with acute lymphoblastic leukemia. Life slowed down for Beckett.
"He began bruising a lot," describes Tracey, Beckett's mom and Chief Member and Employee Experience Officer at Coast Capital. "But we didn't think much of it because he's a little boy, he's very active and he's always falling."
With her husband away on business, Tracey took Beckett to visit his grandparents. During their stay, Beckett was lethargic. He was pale and feverish. He lacked all energy and he just wasn't himself.
That's when Tracey knew something was wrong.
A diagnosis that rocked her world @(Model.HeadingTag)>
Tracey and her mother travelled back to Vancouver and went straight to B.C. Children's Hospital.
"We got the blood work done at 11 and went home. By 12:30 my phone was ringing, and I was told to come back to the hospital as soon as possible," recalls Tracey. "Within a half hour of being at the hospital, in walks the oncologist and in that moment, our whole world turned upside down."
Within 24 hours, doctors were able to determine what type of leukemia Beckett had and the best course of treatment. Fortunately, acute lymphoblastic leukemia (ALL) is the most treatable childhood leukemia. Unfortunately, Beckett was what doctors refer to as a slow early responder. That meant he would respond slowly to initial treatment and would therefore require 2 rounds of intensive chemotherapy.
"What should have been 8-10 months of treatment took well over 18 months for Beckett," explains Tracey. "And it's been a journey. It took Beckett nearly 7 years to get a cancer-free diagnosis from the hospital."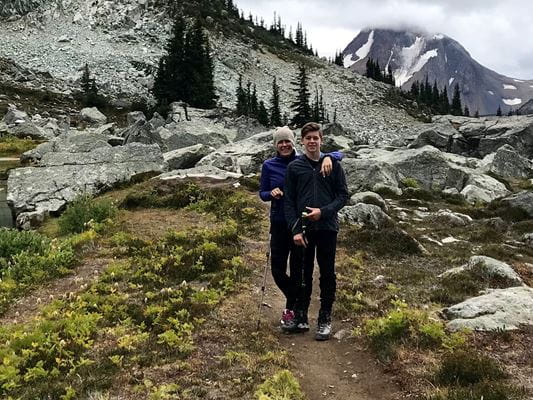 A blessing in disguise @(Model.HeadingTag)>
Yes, this long journey took a toll on Tracey and her family, but that's not how Tracey likes to think about it. Instead, she sees her son's fight with cancer as a way to do something positive.
"Both my husband and I made intentional investments of our time and charitable giving in organizations that support cancer research," says Tracey. Not long after Beckett's diagnosis, Tracey joined the executive team at Coast Capital, a partner of Canadian Cancer Society, and one of Cops for Cancer's biggest supporters.
"As a parent who has gone through this, you know how hard it is and you want to find ways to give back," explains Tracey. "In my role, I have the ability to help influence the ways we support Cops for Cancer, and I do everything I can to push our relationship forward.
Tracey and the team at Coast Capital support and attend several fundraising events in support of Tour de Rock, one of Cops for Cancer's most successful cycling tours. And for the last 2 years, Beckett, now in the tenth grade, has been a keynote speaker during the Tour de Rock, welcoming riders and sharing his story with the community.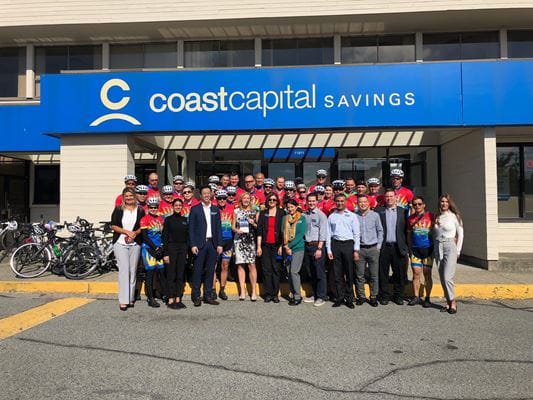 Riding for children and inspiring supporters @(Model.HeadingTag)>
"What moves me so much about these riders on tour is that they're doing it to make a difference in the lives of children and families who endured so much like our family did," explains Tracey.
"They give up their time to train and raise awareness, and I'm so inspired seeing these individuals who care enough to take on this ride so that other kids like Beckett can be helped."
Thank you to all the riders taking part in this year's Tour de Rock and all the other Tours across the country. And a special thank you to Tracey and the team at Coast Capital for supporting Cops for Cancer for an incredible 21 years and counting!